---
Pablo
---
Norman Granz' J.A.T.P. Carnegie Hall, 1949
Pablo 5311
Fantasy PACD 5311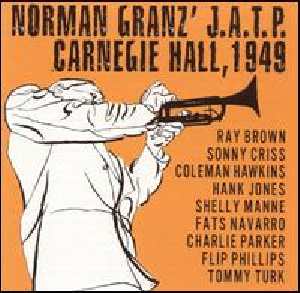 *1 1949/02/11 Jazz at the Philharmonic Concert 'Carnegie Hall', NYC
Fats Navarro (tp); Tommy Turk (tb); Charlie Parker (as); Sonny Criss (as); Flip Phillips (ts); Coleman Hawkins (ts); Hank Jones (p); Ray Brown (b); Shelly Manne (ds); Ella Fitzgerald (voc); Mario Bauza (tp); Paquito Davilla (tp); Bob Woodlen (tp); Gene Johnson (as); Fred Skerritt (as); Jose Madera (ts); Leslie Johnakins (bs); Rene Hernandez (p); Roberto Rodriguez (b); Jose Mangual (bgo); Luis Miranda (cga); Umbaldo Nieto (timbales); Frank "Machito" Grillo (maracas); Norman Granz (ann).

1.
Introduction (Norman Granz)
1:15
*1
2.
Leap Here (N. Cole)
11:26
*1
3.
Indiana (J.F. Hanley-B. McDonald)
11:19
*1
4.
Lover Come Back to Me (S. Romberg-O. Hammerstein)
15:39
*1
5.
Introduction (Norman Granz)
- Rifftide (T. Monk)
5:18
*1
6.
Sophisticated Lady (D. Ellington-I. Mills-M. Parrish)
4:30
*1
7.
The Things We Did Last Summer (S. Cahn-J. Styne)
3:40
*1
8.
Stuffy (C. Hawkins)
10:19
*1
---
CLOSE

Copyright © 2014 BIRD'S LEGACY - CHARLIE PARKER DISCOGRAPHY - All Rights Reserved.