520122_23
CHARLIE PARKER with STRINGS
Recording studio at First Avenue & East 44th Street, NYC,
Tuesday/Wednesday, January 22 or 23, 1952.
CR: MERCURY RECORDS.


Chris Griffin, Al Porcino, Bernie Privin(tp); Will Bradley, Bill Harris(tb);
Stan Webb(fl,oboe,bs); Toots Mondello, Murray Williams(as,woodwinds);
Charlie Parker(as); Art Drelinger, Hank Ross(ts,woodwinds);
Sam Caplan(vln,concertmaster); possibly Sylvan Shulman and Jack Zayde,
and five other unknown(violin); two unknown(viola); two unknown(cello);
Verley Mills(harp); Lou Stein(p); Art Ryerson(g); Bob Haggart(b); Don Lamond(ds);
Joe Lipman(arranger,conductor).
| No. | Matrix | Title | Take | Time |
| --- | --- | --- | --- | --- |
| a | C 675-1 | Temptation | | 3:57 |
| b | C 675-2 | Temptation | | 3:31 |
| c | C 676-3 | Lover | | 3:06 |
| d | C 677-4 | Autumn in New York | | 3:29 |
| e | C 678-1 | Stella by Starlight | | 4:09 |
| f | C 678-4 | Stella by Starlight | | 2:56 |
収録アルバム (SP)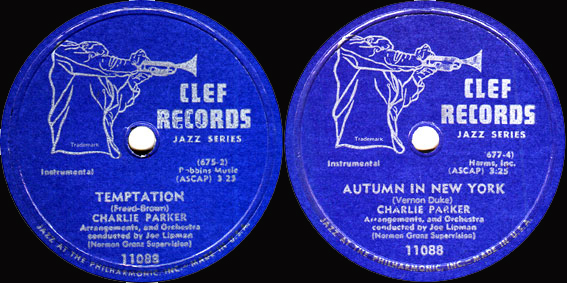 Clef 11088 (a/c)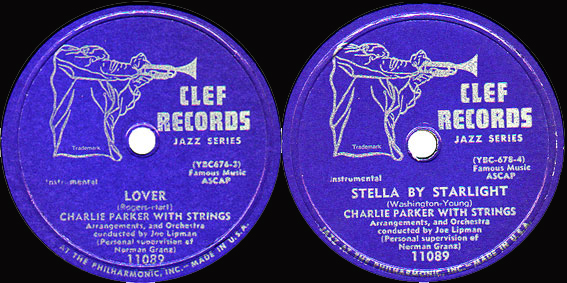 Clef 11089 (b/d)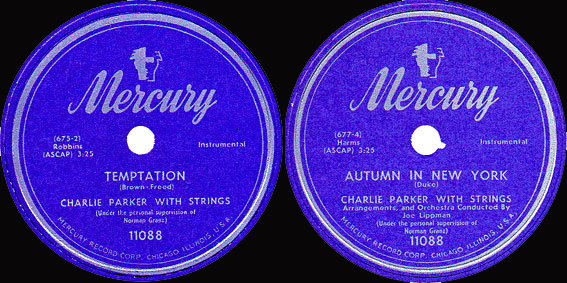 Mercury 11088 (a/c)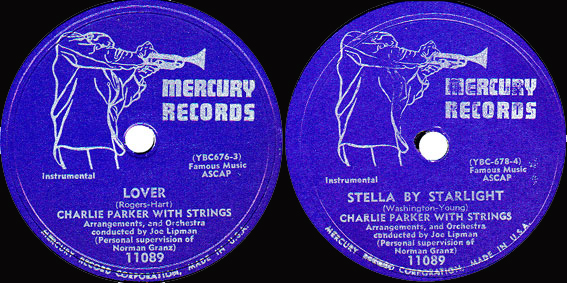 Mercury 11089 (b/d)



収録アルバム (7" 45)
7" 45: Mercury 11088X45/11089X45; [Equivalent Clef 11088X45/11089X45]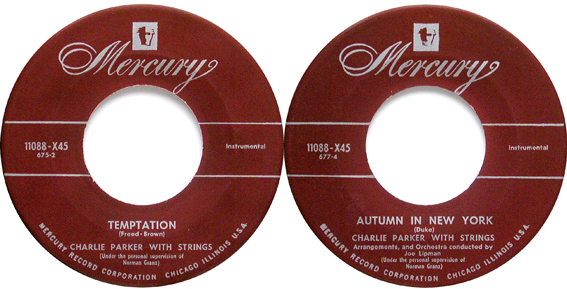 Mercury 11088X45 (a/c)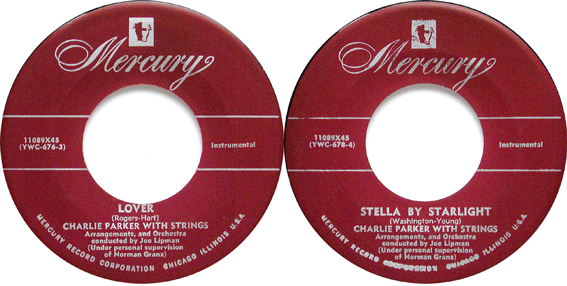 Mercury 11089X45 (b/d)
収録アルバム (7" EP)
7" EP: Clef EP C 505; [Equivalent Blue Star(Fr) GEP-12541, Karussel(Swe) KEP-210]
| | |
| --- | --- |
| Clef EPC 505(@ a-d) | Karusell(Swe)KEP-210(@ a-d) |
収録アルバム (12" LP)

Clef MG C-5003(@ a-d)

Verve MG V-8003(@ a-d)

Verve(Fr)817 447-1
Vol.6 (@ a-d)

Verve(G)711 079
Vol.5 (@ a-d)

Verve VE2 2523 2LP (Disc 1)
(@ a-d)

Verve VSP (It) SVSP52.036/37
2LP (Disc 1)(@ a-d)

Verve(Ja) 00MJ3268-77
(10LP Box set)(@ a-d)


収録アルバム (CD)
CD: Verve 837 141-2; [Equivalent Verve(Ja) J00J-29001/10]
CD: Verve(Ja) POCJ-2354; [Equivalent Verve JZ080916-229, 523.984-2, Verve(eu)JZ081002-07]
CD: Verve(Ja) POCJ-2637; [Equivalent Verve(Ja) UCCV-5033, UCCV-9468]


BIRD COMPLETE ON VERVE
Verve 837 141-2(147-2)
10CD Box set(disc-7:@ a-d)

BIRD COMPLETE ON VERVE
Verve(Ja) J00J-29001/10
10CD Box set(disc-7:@ a-d)

THE MASTER TAKES
Verve(Ja) POCJ-2354(@ a-d)

APRIL IN PARIS + 4
Verve(Ja) POCJ-2637(% c,d)